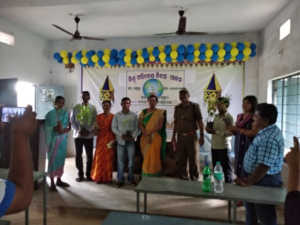 Laxmipur , (CYSD Bureau):  The World Environment Day 2018 was observed at Laxmipur College, with "Beat Plastic Pollution" as a standard theme across the globe. A call was made for the citizens to come together and combat one of the greatest environment challenges through curbing use of plastic as a sustainable way forward .
The event was jointly organised by CYSD Koraput Project and NSS in association with Youth Red Cross (YRC) Unit of Laxmipur .The event was participated by producers, collectors, youths, students, teachers, news reporters (The Samaja, Sambad and Pramaya), Gram Panchayat representatives and Sarapanchs, local people and CYSD staff members.
The event was commenced at 10.00 am with a welcome address and sharing of key purpose of the Day's celebration by the Block Coordinator of InFoRM Project, Shri Prasanna Ku. Moharana.  The guests present shared their concerns regarding the climate change and made meaningful suggestions on how to combat it.
The role of budding youth generation in environment protection is crucial, said Mr. Prakash Kumar Senapati, NSS Coordinator. Sharing his experience, he said, how the environment of Laxmipur, in particular, has been changing rapidly within last two decades.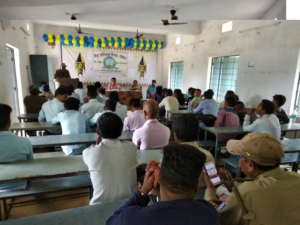 One of meritorious students of Laxmipur College, Miss Ambrit Wadeka shared about her experience, who attended a Seminar on Global Warming and Climate Change in Germany in recent past. A Community Resource Person (CRP), Mr. Tima Miniaka also shared regarding his  initiative and how he had protected 5 hectors of forest close his land and planted mango tree in one acre,  in return which has been contributing to environment and household income as well on a sustained basis.
The role of a Sarapancha is equally critical towards environment protection in terms of providing individual household latrines to community, promoting smokeless chulla and LPG connection to all, banning use of Polythene  inside the Panchayat area, said  Mrs. Nirupama Wadeka,  the local Panchyat  Sarapanch.
We the people are responsible for environment change, so time has come all the students, youth mass and  citizens  to think for its protection, said Mr. Biren Satapathy, the Principal of Laxmipur College. Like CYSD, everybody should start seed dibbling programme in their area.  As India has taken the responsibility for observance of the World Environment Day, setting  a theme  for this year "Beat Plastic Pollution", we being its active citizens, should work for stopping polythene use and encourage people not to use polythene any more, added  the college Principal.
We may not able to create a dense forest, but in small patches we can start creating bush forest, said Mr. Prasanna Moharana.   Horticulture promotion in individual household land and in common land can give good income and support the environment as well.  However, change in behaviour is call of the day towards environment Protection, he emphasised.
The role of Ama Jungal Committee (AJC) or Vana Surakshya Samiti (VSS) is very important towards forest protection and regeneration. Forest Department is ready to provide seedlings support for plantation, if AJCs or VSSs come forward for plantation work, shared Mr. Kumar Khara, Forest Range officer, Laxmipur.
The guests and participants were requested to plant one tree seedling each, like Asoka, Amla and Simarua provided by the Forest Department, inside the college campus on the occasion, while concluding the Day's celebration.