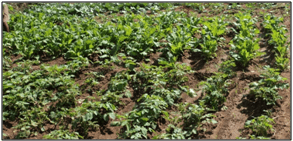 Having limited landed property, Subash Mohanta, an inhabitant of Sialijoda under Saharapada Block was unable to produce sufficient paddy for his family. Erratic monsoon, pest attack and other factors have many a times led to total crop failure.
Subash, about 30, with his wife, daughter and aged parents had witnessed a very hardship period and undulating life a decade earlier.
Subash along with his parents as daily wage earner was supporting their family. As his parents were turning old, it was getting difficult for them to hard labour. Thus, single-headed earning of Subash became insufficient for his family of five.
CYSD with the support of Plan India has been intervening in Saharapada Block for livelihood enhancement of poor families through various activities. As part of social mobilization process, the program has promoted several Women Self Help Groups (SHGs) in the villages. CYSD Team has been successful in motivating the community women to become members of such SHGs. Women members were trained with various entrepreneurship and sustainable agricultural skills.
After a lot of motivation & encouragement Subash's mother soon became a member of the 'Bag Devi SHG'. From the beginning, she started saving a little amount every month. She also used to take loans from the SHG to support his family during the distress period.
However, seeing and knowing the in & outs of the process, his mother finally got some confidence and took a bigger loan and opened up a grocery shop in their premises in 2003. Out of the profit, she soon repaid the loan taken from SHG and subsequently extended the endeavor of selling fertilizers.
In due course, the family also took a patch of land on lease and initiated cultivation of tomato, pumpkin, radish and other vegetables.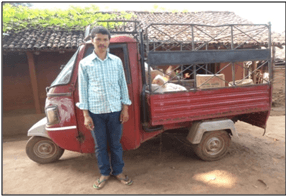 Fortunately, Subash, being a sponsored child earlier, was recommended for a one-month vehicle driving training. After completion of the training and availing his driving license, he was all set to opt driving as a profession. Soon he got a loan of Rs 20,000/- approved, through his mother from the SHG, to buy a second hand goods carrier auto.
Soon after he got  ownership of the vehicle, Subash's joy had no limits. From then onwards, he used to help his father in carrying/transporting the groceries and veggies to different local markets for sell. Today, he also procures paddy from the local farmers and sells those to the millers for a better return. On this date, Subash earns a minimum of Rs 12,000/- per month from paddy sale.
The trolley auto is being used for marketing of the vegetables in distant places where he can get better price.
Subash's family, today, has improved a lot financially through their hard labor and timely right decisions. His wife is very supportive and cooperative Every month he saves Rs 2000/- for his daughter out of his pocket under the Sukanya scheme.
He has also built a pukka house,   acquired some household assets and  saved a fair amount of bank balance, which in time will be helpful for his business expansion.