Early Child Marriage is Illegal and a Sin
In recent past, one afternoon, on her back from School, Sajani was told by her parents that she would be no more going to school because they were making plan for her marriage. Sajani, daughter of Harihar Mahakud of Bagdafa village in Bhaliadal GP Thakurmunda block was just 13 years in 2018. As an ambitious girl, Sajani wished to continue her education like other girls. She tried to persuade her parents to postpone her marriage but failed.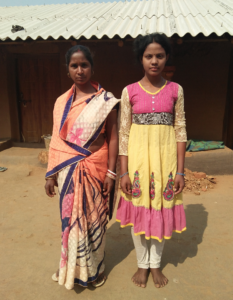 Gloomy girl, Sajani sought the help of Ms. Arati Mohanta, a community teacher of Combating Child Domestic Labour Project of CYSD in Thakurmunda.
Together they embarked on a journey to fight against this child marriage. They put the case before the members of Birsa Munda Child Club, who in turn informed the village level Child Protection Committee. Some CPC members visited Sajani's home, apprised Sajani's family regarding the implications of early marriage and the importance of her education. But her parents were not convinced to postpone her marriage. But they were persuaded to attend the next CPC meeting scheduled on 6th February 2018. At this meeting, the parents were informed of the law relating to child marriage and stringent punishment for violating it. Then Sajani's father agreed and made a written commitment to abide by the law and not to give his daughter in marriage before she attains the age of18, even without her consent. The villagers along with CYSD Project staff informed the Sarpanch, Child-Line activists about this renewed effort towards combating early child marriage.
"Together we managed to convince the parents of Sajani that giving marriage to a 13 years girl would be illegal and even a curse to them. They somehow agreed to postpone the marriage till their daughter becomes18 years," proudly shared Arati, the community teacher.
Sajani delightfully says, "During this process of fighting against child marriage, I have become an active member of Birsa Munda Child Club and gained ample awareness on the implications of early marriage. The knowledge I gained on Prevention of Child Marriage Act (PCMA) provided me enough courage to stand up against child marriage".