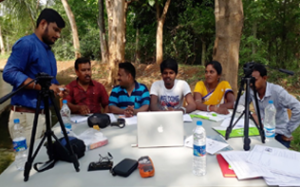 Kapundi, (Hrudananda Senapati):  A four-day training programme on video production was held at the Rural Livelihood Training Centre (RLTC) for the Community Resource Persons (CRPs), Community SPs and CYSD staff members. The programme, which emphasized on the importance of video production in the present situation, also gave a brief idea to the CSPs about video dissemination or screening. The 4-day training programme was conducted by key resource persons from the Digital Green (DG) Team.
On the Day-1 the participants were given a brief understanding of the various video production equipments along with the basic features and how to operate a Camera. The participants were trained about the difference between a scene and a shot and were also made to face various types of shots in film making. Not just this, the CRPs and others (CSPs and CYSD staff members) were also taught about story boarding and how to design them.
The Day-2 of the camp started with the resource persons of DG, giving a detail  of how to make a story board. The participants were also trained to write scripts (including scene descriptions, dialogues, actors and the shot break up). Soon later, the trainees took their desired roll as Director, cameraman, actor etc. and shot a small film on Sunstroke inside the RLTC premises. After completion, the film was screened to the participants for them to know, acknowledge and meet the gaps in their work. Later, an actual film on "the Benefits of Hand Wash" was planned for which a team of the participants visited Khadibeda village to take permission for shooting on the next day. Another team of trainees prepared the storyboard for the film including scene description, dialogues, artists and the shot break up.
Early on the Day-3, the DG team along with the trainees visited the shooting location (Khadibeda) along with their production equipments.  The participants following the script and the storyboard shot the film in about 5 hours. Later after returning back to the RLTC, the raw shots were screened to the trainees to let know the gaps in their making.
A brand new computer was set up on the Day-4 of the camp at the RLTC. Participants were given a brief training on film editing and the editing software. Nearly  150 shots from the day 3's shoot were selected and were edited. At the end the participants finally got a 12-minute film on Benefits of Hand Wash. The DG team took the film for approval by the project committee. Once the film is approved, it can be showcased by the CSPs at various villages.