Live and Let Others Live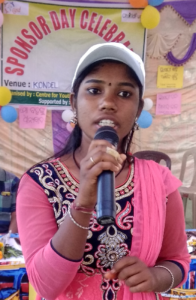 With much hardship Laxmi Talia, 19 years, could manage to complete her secondary level education in nearby college with the support of CYSD's Child Development Project. Laxmi belongs to Maheswarpur village from Korukonda Block of Malkangiri District. To become a good student was not her prime intention; she rather wanted to "live and let others live".
Getting involved in CYSD's activities, she realized the importance of adopting a healthy and productive adolescent life style which provides a solid base to become a healthy mother. With this motivation she started working with adolescent girls likely to be most neglected in tribal areas. She took an oath to fight against all kinds of ill mindsets in society and began forming adolescent girl groups focusing on girls' right to Adolescent Reproductive and Sexual Health (ARSH). Gradually, she was accepted by the girls' groups and could win the confidence of community people.
Next, she took it upon herself to combat 'child marriage' in her community. She demonstrated her protest in the form of silent rallies and pada yatras with the support of all adolescent group members. As of now, she has stopped 2 child marriage cases in her locality. This apart, she has contributed immensely to regularizing the support services of her Gaon Kalyan Samiti (GKS). With her active role, the Village Health and Nutritional Days (VHNDs) have become more regular and vibrant. Almost all adolescent girls taking part in the VHNDs and exercising their ARSH rights.
"I want to create many more Laxmis who can bring changes in the adolescent life style in the tribal communities", says Laxmi confidently.