Ray of smile in Jamuna's face
Jamuna Mohanta, an illiterate tribal woman of 47, lives with her five member family comprising husband, son, daughter-in-law and a granddaughter of 3 years in Sialijodi village of Saharapada Block of Kendujhar district.
Jamuna happens to be a member of Om Shanti SHG promoted by CYSD-Plan project. Due to illiteracy, she often depends on her husband and son for taking important decisions. Few years back, the family was solely depending upon agriculture for their subsistence. Because of erratic monsoon and other factors they were not getting adequate yield from their 2 acres of land. The family was hardly earning an income of Rs.12000 to 15000/- per year. Income out of the agriculture was insufficient for managing their year the round food grains and other expenses.  Alternatively, to add to the family income, Jamuna was rearing some chicken and ducks. But the survival of chicken and ducks was uncertain every year due to bird's epidemic.
Jamuna had been a regular attendee in the monthly meetings of SHG and was keeping her attention on the discussion of business promotion. Initially, due to fear of morbidity of birds, Jamuna had little confidence to initiate a medium venture. Still, in a small way, she was rearing some ducks and chicken, besides managing her household chores.
Incidentally, one fine day CYSD's Facilitator was discussing with the SHG group about the potential of duckery and poultry farming, as an alternative source of income enhancement. While discussing, she explained the preventive steps required for the protection of birds from diseases. The facilitator also talked about the availability of space for duck house, water points, and other essentials. Enthusiastic Jamuna was motivated with the discussion on enterprise promotion. She decided to get more number of ducklings and develop a farm house for birds. With this intention she took Rs.10000 as loan from her SHG and bought 200 ducklings. With proper care and protection, the ducklings grew up rapidly and after 4 months time she started selling the ducks. In total, she got Rs.18000 as profit out of the investment of Rs.10000. With this profit she made up her mind to continue the duck rearing. She had to procure husk for ducks regularly, hence, subsequently she opted to set up a rice processing unit to collect the husk. For this purpose she applied for bank loan and ultimately got the machine installed. Out of the rice processing unit and duck rearing she could be able to repay the entire loan. While her husband looked after the rice processing unit, she herself concentrated on the duck raring.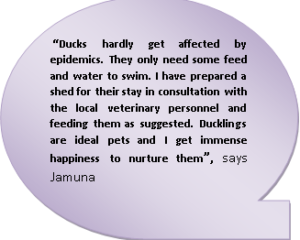 Gaining confidence with duck rearing consecutively for five years, she has started a broiler farm this year and engaged her son along with daughter-in-law to manage the farm.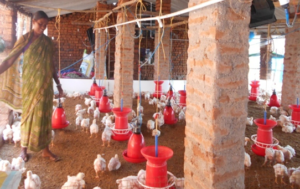 Jamuna has been a role model in her community and other SHG members also consulting her before initiating any new business endeavor.
"I am really grateful to CYSD-Plan project for promoting SHGs in our community and building the confidence of its members to be successful entrepreneurs like me", proudly says Jamuna.
A life of dignity is the right of every citizen.  Self-employment is a significant step to have sustained incomes and to get out of the shackles of poverty. Jamuna's life has been changing through a gradual empowerment process. The Manager of Bank of India says, "As long as Jamuna will continue the same spirit of entrepreneurship, our bank will keep her supporting with financial assistance in future".