School Management Committee (SMC) – A Case of Padiabeda UP School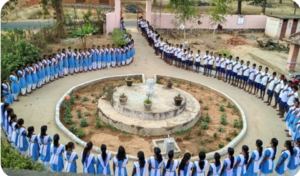 Padiabeda Upper Primary School of Thakurmunda block, the operational area of CYSD, sets an example in terms of cent percent students' enrolment; their retention till completion of elementary education; monitoring of school activities; and preparation and implementation of school development plan. This is possible only due to the active functioning of its School Management Committee (SMC) and adherence to the RTE (Right To Education) norms.  The school experiences changes in education standards through genuine community participation, especially the parents.
Drawing an ambitious School Development Plan, the SMC perfectly achieved targets and a bit more. This includes school beautification, renovation of school building, regular water supply to toilets, provision of safe drinking water, roof repair, temporary fencing of school boundary, creation of kitchen garden, and improvement in school attendance.
To achieve the last, it came up with an 'out of the box' idea. The SMC created Child Clubs with a boy and girl, from each hamlet, in each class, as child leaders. Their task is to ensure highest attendance from their hamlets, with those achieving perfect record are awarded with a small national flag every evening in front of other child leaders. That spurred such peer competition that school attendance never drops below 90%.
This SMC's dynamism is due to active synergy between PRI representatives and their constituent parents. The former helped tap into hitherto unknown resources. Consequently, SMC members mobilized funds for regular water supply in toilets from CYSD-Plan Project while obtaining funds for repair of roof from Gram Panchayat.
The SMC has focused its attention on keeping school environment clean and attractive. For this, members collected flower saplings locally in monsoon, and built a garden at low cost in school. They mobilized free community labour to beautify the campus. They even created a kitchen garden using similar model while recycling waste water. The parents' sense of ownership and pride in the institution is clearly evident, with female SMC members using cow dung to disinfect and level school campus every weekend, gratis.