'YUVODAYA' – Inspiring and Activating Young Minds
Koraput / Rayagada: CYSD has added new feathers to its two project locations. With the intention of "Inspiring and Activating Young Minds to be the Change Agents for social inclusion and realization of SDGs, CYSD, in collaboration with Voluntary Service Overseas (VSO) India, has launched an innovative project 'YUVODAYA' in Boipariguda and Kolnara blocks of Koraput and Rayagada respectively.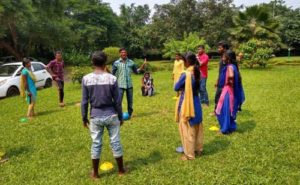 Young minds play a very crucial role in visualizing as well as achieving the SDGs of 2030. Over one third of the 169 SDGs targets highlight the role of young people and the importance of their empowerment, participation, and well-being in materializing SDGs in true sense (UNDP, 2017).  Most young people are optimistic about the future. A Youth Speak global survey states that 68% of the young people believe the world will be a better place by 2030.  This marks the evidence to realize the importance of Youth participation in realizing SDG by 2030. In this context, CYSD is motivated to engage young minds across the globe in conceptualizing the context of SDGs from local levels and at the same time orient them to become the future change agents of the society and advocate for social inclusion in the community and local governance.
At the impact level, CYSD seeks to promote inclusive development in Odisha through strong community based development interventions, to complement already existing governance efforts, through capacity building, research, creating information based reflection platforms, advocacy, and creating of a vibrant youth base.
 Objectives of the programme:
Creating Youth leaders to be the Change agents in sensitizing the local youth & community on Sustainable Development Goals. These youth leaders shall act as the face of all other youth as well as the community (including men, women, other socially excluded groups and differently able persons) who can understand, identify, raise the issues of the community and include them at local planning level.
Creating a Youth Platforms to build their capacity and basic understanding on the entitlements of the people with disabilities, women, and other socially excluded groups in the communities. Also to strengthen their leadership qualities and Communication skills to evolve as more Informed citizens of the state as well as be the Face (representatives) of the Community before Government (at panchayat, block and district) level.
Sensitising and Mobilising PRI members to increase their knowledge on disability and other issues related to social exclusion. Also to train them on necessary skill, knowledge and framework required for planning by focusing on SDG 2030 agenda with the help of Youth leaders and Volunteers.
Developing a common Consensus on Sustainable Development Goals by Federating the Youth Groups of Panchayat Level, with the Block and District level.
 YUVODAYA, an eight months project commenced in August 2018 will continue till March, 2019.