Development Resource & Training Center (DRTC)
Development Resource and Training Centre,a centre for participatory training and reflection of CYSD(Centre for Youth and Social Development),was established in 1989,Since its inception,DRTC has been constantly striving to strengthen the process of "active learning' in the field of social development, building the capacities of organizations and individuals engaged in different facets of development.
KEY OBJECTIVES
DRTC follows the pedagogical processes of learning,sharing,reflective thinking,problem solving etc.in all its training's programmes. It has set its own bar of quality standards in providing  training in the areas of Sustainable Rural Livelihoods,Inclusive & Participatory Governance,Disaster Risk Reduction & Management,Climate Change Adaption,Education,Health,Gender,etc.The key objectives of the centre are to:
Creat a critical mass of social mobilizers at the community level for facilitating community-led social watch processes.
Enhance the capacities of people's organizations,NGOs and CSOs thriugh need-based capacity building programmes.
Established resources bases of learning in the areas of Rural Livelihoods,Participatory Governance,Food Security,Maternal & Child Health,Education,Climate Change & Disaster Management,Gender etc.through citizen-led accountability practices and civil society building.
CONFERENCE FACILITIES & MEETING ROOMS
DRTC covers a wide range of conference facilities to suite all needs.Each conference room is spacious,modern and provides a fantastic learning environment for all individuals.Great for civil society organisations,government,corporate and individuals social activists / philanthropists and the cost of each room     includes the equipment you need to ensure your seminar; workshop or one-to-one meeting run without any hassle.Conference rooms have been designed to meet your every need-with internet access,remote power point slide presenter and remote mouse,ceiling mounted LCD projectors with laptop,AV,ICT,DVD and CD players all linked to a sound system.
MIS & Logistic Units
The hi-tech computing unit at DRTC makes information orchestration and documentation  activities faster and more efficient.Facilities like telephone,fax and email at one's finger tips ensure that one remains in constant touch with the rest of the world.
DRTC- Conference Group
The one-stop counter DRTC-Conference group renders logical assistance in managing events,like arranging  customized stationery,receiving andd seeing off guests and documentation.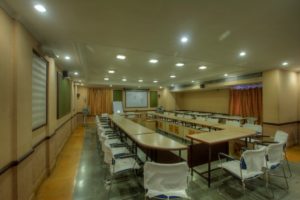 Library & Resource Centre
User of DRTC facilities have access to its well-stocked library and resource centre. A large and expanding range of reading materials,books,reference and AV materials,journals and newspapers at the library make it a veritable repository of knowledge -a perfect place for learning,development research and reference.
ACCOMMODATION & FACILITIES
DRTC's feel-at-home atmosphere and warm hospitality promise participants a genuine mix of learning and comfort. It offers clean and decent accommodation for 50 participants ( both male and female) and accommodation for Resource persons /  Guest (two rooms)
Rooms
Twenty-two simple and clean non-AC rooms of various sizes and capacities ( single, double, triple and six bedded rooms) available to accommodate 50 persons. Common bathrooms & toilets are available in all floors for participants' use with separate facilities foe women.
Two AC rooms available for 4 resource person / guests.
Lobby
DRTC offers well decor lobby places for group discussion of participants and resource person.