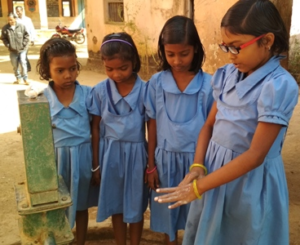 Thakurmunda (Ashok Pradhan): Bhomika, a vivacious little girl, in class IV of Baliposi Primary School turns herself as a hand washing ambassador in her village and school. She never felt sick in last six months and attended all the classes. She spreads the good practice message on hand washing with shop among her peers and elders in the village and school.
Bhomika lives with her father Arun Kumar Mohanta and mother Kabita in the village Baliposi under Thakurmunda block of Mayurbhanj. Every year, Diarrhea and skin diseases break out in the village, and children are the worst sufferer. Bhomika along with other children often remain absent in the school due to prevalence of diarrhea and skin diseases.
CYSD-Plan has started the WASH-Unilever school-based hygiene project in the village to improve hygiene behaviours of children and their families. Children are inspired most in the project. One day, Bhomika went to a marriage ceremony in the nearby village. She observed at the ceremony that people were taking food without washing their hands. She also saw that the person who was serving food to the guests had not washed his hands with soap. She felt sad and returned home without taking food and shared the incident with her mother, a SHG member. In the next SHG meeting, Bhomika shared her experience and consequences of hand washing. She told to the members that "We invite germs if our hands are not cleaned with soap properly. A good hand washing practice may prevent vector born diseases, like diarrhea, typhoid and jaundice." The members then decided to start hand washing practice in their household level first and will convince others.