Thakurmunda, (Swarup Kumar Nag): In 2013, Mayurbhanj district administration through a campaign "Mu bi Padhibi" had identified 5,525 children in the age group of 6-14 years who were working as child labourers and put them in residential schools, Kasturaba Gandhi Balika Vidyalayas, special schools and special training centres as per the RTE norms. However, CYSD encountered that the child labour cases have not totally eradicated in rural and tribal dominated area. It exists with another form of child domestic labour which results high rate of school dropout and other consequences. CYSD has been putting its effort to wipe out the child labour cases in its operational area through a project "Combating Child Domestic Labour (CCDL) since 2016.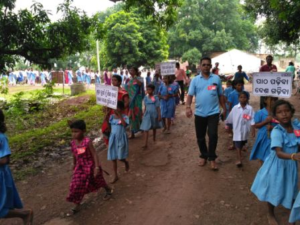 CYSD has been implementing the project "combating child labour" in 80 villages of Thakurmunda, Kaptipada and Jashipur blocks of Mayurbhanj district. As part of the project, the World Day against Child Labour was observed on 12th June 2018 in three blocks in collaboration with civil society groups, Media, PRI members, Government functionaries, children and local communities. The day was observed with the wearing of 'Red Card to Child Labour' badges by all the assembled 648 participants in three block level events. At the very incident of wearing the badge the participants were sensitised their role to stop child labour.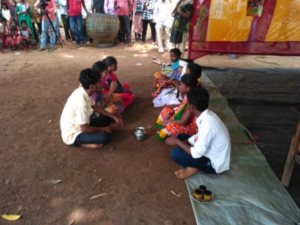 Three block level rallies, covering an average of one kilometer each, were spearheaded by children intended to create awareness and provoke the community to realize the significance of the days' celebrations followed by sensitisation meetings at each block. Children also performed cultural programmes symbolising children's issues and the steps to be undertaken by the citizens to curb it. Apart from cultural events, puppet show "Come on folks, let's end the child labour", won hundreds of audience heart.Sita Hembram, a school going girl invocated block level event at Jashipur block. Bhagaban Mohanta, the Child Protection activist; Damayanti Patra, ICDS Supervisor; Liza Mohanta and Jadumani Mohanta, Child Line of Jashipur; Sasadhar Sethy, Ektali CRCC; Prasant Kumar Behera, Thakurmunda Block Chairman; Sarat Chandra Tripathy, President,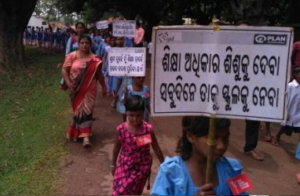 Thakurmunda Press Club and Arjun Mohanta, Social Worker were present in the events and put their valuable inputs to end child labour in the district. Bharati Mishra, Gobinda Behera, Nalinikanta Sahoo, Puspalata Senapati, Swarup Kumar Nag and Tophan Kumar Sethy from CYSD coordinated and facilitated the events at block level.