Project 'SAMVAD' – An Innovative Digital Community Engagement Platform
Thakurmunda & Saharapada:  CYSD envisages that its engagements in community development process will be strengthened more by video documentation and dissemination processes.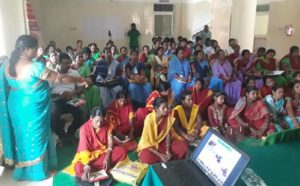 Keeping in view the above, CYSD has recently launched, an innovative Project 'Samvad' – Digital Community Engagement Platform for Improving Maternal Child Health and Nutrition Outcomes supported by Digital Green. The project is being implemented in 150 villages covering 23000 women in Jashipur, Thakurmunda and Saharapada blocks under Mayurbhanja and Keonjhar district respectively. The aims of the Project "Samvad"- is to create demand and enabling environments for adoption of practices that are critical for improvements in planned family and nutrition outcomes by integrating behavior change communication regarding nutrition-specific interventions with nutrition-sensitive approaches (including use of health and other safety net services and hygiene practices).
Project Samvad''s core intervention is centered around, a) scaling-up its participatory video-based approach targeted to women's groups; b) leveraging the use of other ICT-platforms including community radio and mobile platforms and c) partnering with state government programmes to deliver locally feasible solutions at scale. Further, the activities shall be replicated in other operational areas of CYSD as well.
This new initiative will certainly strengthen our engagements in community development processes; through video documentation and dissemination processes which is intensively monitored at the grassroots level for adoption and impact assessment processes.